A number of exciting new sickle cell disease (SCD) drugs are set to hit the US market, says GlobalData, including gene therapies that could offer patients a cure. The leading data and analytics company notes that one of the gene therapies that is currently closest to entering the market— bluebird bio's bb1111—is projected to represent over a quarter of total sales within the space by 2030. Meanwhile, Droxia, a drug that once was the only approved drug for 20 years, will be drowned out by the newcomers.
Nancy Jaser, PharmD/MBA, Pharma Analyst at GlobalData, comments: "Driven by the introduction of multiple first-in-class therapies, the US SCD market is set to see significant growth, from $227.7 million in 2020 to $4.8 billion in 2030—that's an impressive compound annual growth rate (CAGR) of 33.2. Some of the most exciting entries are gene therapies such as bb1111 and CRISPR Therapeutic's CTX001. While expected to be costly, gene therapies such as these may offer patents a cure that avoids a painful and risky bone marrow transplant."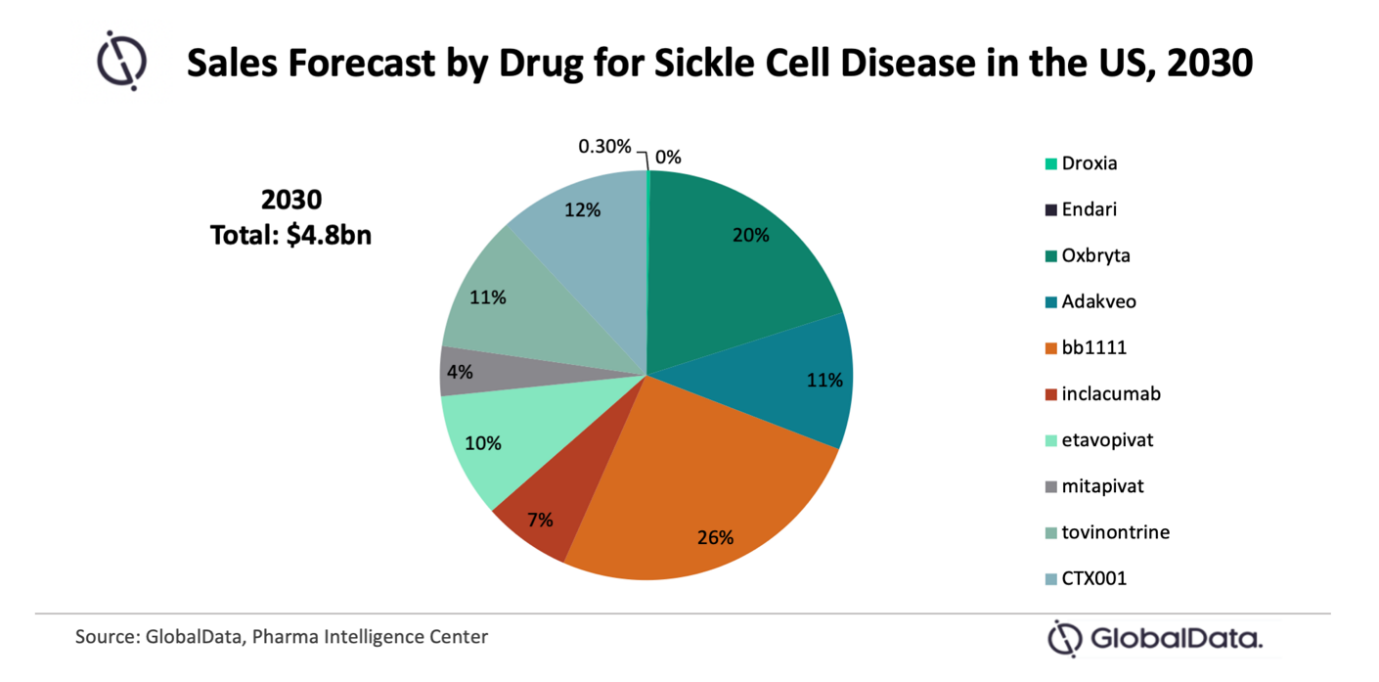 SCD is a genetic blood disorder that results in the formation of moon-shaped (termed 'sickled') red blood cells that cause severe complications. The only established cure for SCD is through a bone marrow transplant, which is not commonly performed due to the risks involved and difficulty finding a matching donor. Current therapies for SCD focus on managing symptoms and complications, including anemia and acute or chronic pain. Proper management of these complications is critical to decrease the accumulation of organ damage over a patient's lifespan, increasing their quality of life.
GlobalData's latest report, 'Sickle Cell Disease – Opportunity Assessment and Forecast to 2030', reveals that there are only four FDA-approved drugs to treat SCD, illustrating the high unmet need for new therapies—especially for potentially curative treatments that target the underlying genetic cause of the disease. Current options are used to manage symptoms and are disease-modifying but not curative.
Jaser continues: "Droxia was the only approved drug for SCD for around 20 years until Endari entered the market in 2017, followed by Oxbryta and Adakveo in 2019. This highlights the extreme limitation of treatment options prior to their launch. Gene therapies have the potential to disrupt the SCD market by dramatically impacting the treatment algorithm."
CTX001 and bb1111 are the closest to market. bluebird bio is planning a BLA submission in Q1 2023, which will include at least 50 patients treated with up to seven years' follow-up from the pivotal Phase III trial. Meanwhile, CTX001 lags behind in Phase I/II of development, with data from only seven patients at this time. However, CRISPR reports that target enrollment has been achieved and plans for regulatory submission are in progress. Both drugs have been granted orphan drug, fast track, and regenerative medicine advanced therapy (RMAT) designations by the FDA.
Other novel pipeline drugs in late-stage development include Forma Therapeutic's FT-4202 and Agios Pharmaceuticals' AG-348, both of which are first-in-class PKR activators. Imara's IMR-687 has the potential to launch as the first PDE9 inhibitor available as a treatment for SCD patients. Lastly, Global Blood Therapeutics' monoclonal antibody (mAb) inclacumab (while not a first-in-class therapy) may offer significant improvements in efficacy, side effects, and dosing compared to Novartis' mAb Adakveo.
Jaser notes: "GlobalData anticipates a dynamic market with a variety of treatment options for SCD patients in the near future."