Drug pricing and reimbursement-related concerns will remain the leading impediment to the pharmaceutical industry's growth in 2022, says GlobalData
Drug pricing pressures will continue to hinder the growth of the pharmaceutical industry in 2022, forcing companies to reassess their pricing strategies and market focus, says GlobalData, a leading data and analytics company.
In GlobalData's latest report, 'The State of the Biopharmaceutical Industry – 2022', drug pricing and reimbursement constraints elicited the strongest responses from healthcare industry professionals, with 34% of respondents (N = 60) rating it a 5, 4, -4, or -5 (rating scale from -5 to 5).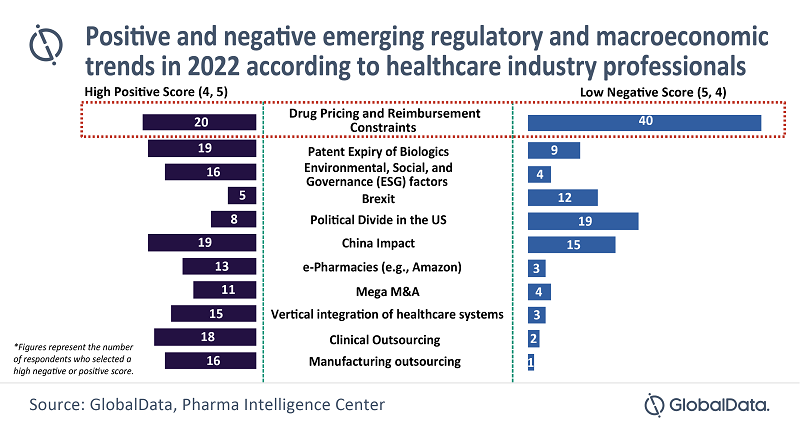 Urte Jakimaviciute, Senior Director of Market Research at GlobalData, comments: "The majority of healthcare industry professionals viewed the drug pricing and reimbursement constraints trend as having a negative impact on the pharmaceutical industry in 2022. This is most likely due to the increase in drug prices being scrutinized by governments due to the need to contain healthcare spending, control inflation, and offset borrowing booms caused by COVID-19. This will create a greater need for payers to put control on prices and implement reimbursement constraints.
"On the other hand, inflationary pressure on the cost of raw materials, active ingredients, and intermediates will be driving pharmaceutical products price growth, and currently there is no indication that a turning point lies ahead."
Taking action on increasing prescription drug prices has been on the US government's radar for a long time. Similarly to previous years, in January 2022, drug companies in the US raised prices on hundreds of prescription medications, including oncology, immunology and cardiovascular diseases drugs.
Jakimaviciute continues: "Although Biden's attempts to introduce pharmaceutical pricing and reimbursement controls – even if it would not amount to full price control – have been met with enthusiasm by many consumers in the US, the stalling progress is diminishing the prospects of a reform. The yearly price raises in the US have become a tradition now.
"While drug pricing and reimbursement-related concerns remained the leading impediment to industry growth since 2018, when 'The State of the Biopharmaceutical Industry' survey-tracker was first launched, the industry trends such as growing importance of Environmental, Social, and Governance (ESG) and patent expiry of biologics may eventually help to control the price hikes.