says GlobalData
Arvinas' proteolysis targeting chimeras (PROTACs), bavdegalutamide (ARV-110), which is being investigated as a new therapy for metastatic castration-resistant prostate cancer (mCRPC) in the Phase I/II ARDENT study, has recently shown promising efficacy and safety data for treating mCRPC, providing a huge win for the company, says GlobalData.
The leading data and analytics company notes that the drug's recent results from this trial, presented at the ASCO Genitourinary Cancers Symposium, indicate a clear path forward towards a Phase III pivotal trial, which Arvinas expects to initiate at the end of 2022.
Sam Warburton, Oncology and Haematology Analyst at GlobalData, comments: "This data provides hope for mCRPC patients, who currently have a high level of unmet need due to limited treatment options and significant mortality. However, results from the Phase III trial are required to ascertain whether ARV-110 can improve survival in these patients."
PROTACs are a next-generation drug class which cause cells to degrade disease-associated proteins in a targeted manner. GlobalData expects significant expansion in the PROTAC oncology clinical pipeline over the next five years, with 37 PROTACs in pre-clinical development, according to the company's Pharmaceutical Intelligence Centre.
Warburton continues: "The potential advantages of PROTACs include high specificity, tolerable side-effect profiles, and a low risk of drug resistance due to their unique mechanism of action. However, there are no approved PROTACs for use in the clinic, so these advantages remain speculative. The next five years will be a pivotal period for this drug class as more PROTACs enter late-stage clinical trials."
The current PROTAC oncology clinical landscape is dominated by Arvinas, with three lead candidates targeting breast and prostate cancer. If ARV-110 can prove the assumption that PROTACs mitigate against drug resistance in the planned Phase III trial, this would provide Arvinas with an even greater advantage over well-established competitors, as drug resistance is of paramount concern in the treatment of prostate cancer, according to key opinion leaders interviewed by GlobalData.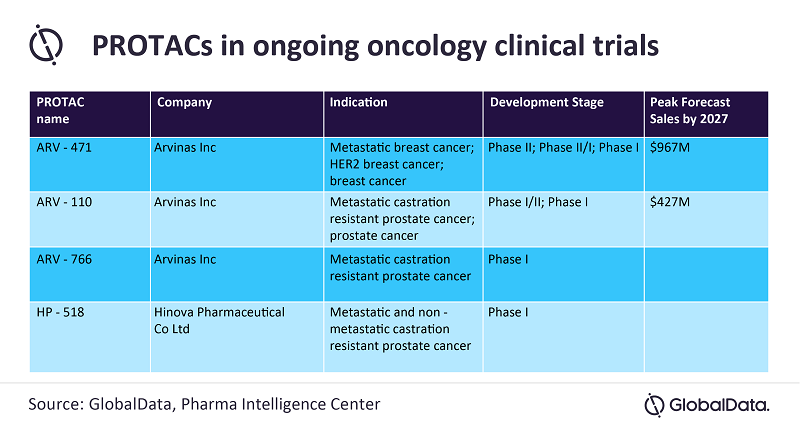 Warburton concludes: "PROTAC development is currently in its infancy, but the ARDENT trial data provides a clear positive signal for further investment in this field."