AI together with Big Data will be the most disruptive emerging technology duo in the pharmaceutical sector in 2022, says GlobalData
Despite being years away from exhibiting its full potential, artificial intelligence (AI), together with Big Data, stand out as a versatile combination to address challenges faced by the entire pharmaceutical value chain, says GlobalData, a leading data and analytics company.
In GlobalData's latest report, 'The State of the Biopharmaceutical Industry – 2022', AI, followed by Big Data, were rated by healthcare industry professionals as the top two emerging technologies to have the greatest impact on the pharmaceutical industry in 2022 (rating scale from 1 to 5, where 5 indicated the greatest impact, 1 – minimal impact). This is replicating the same trend seen in the 2021 edition of the report.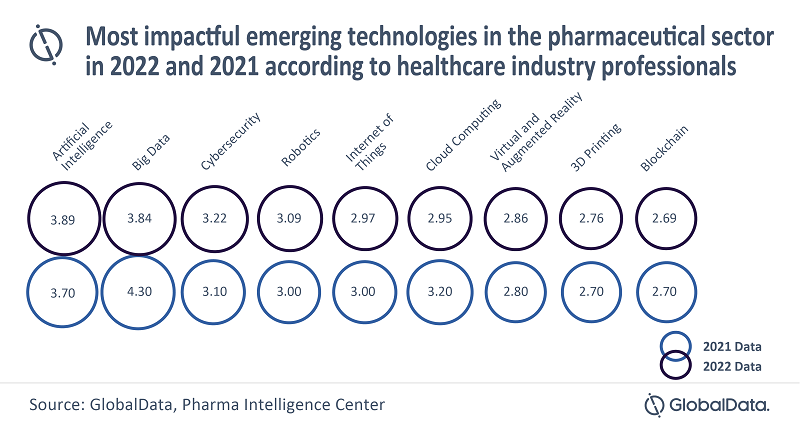 Urte Jakimaviciute, Senior Director of Market Research at GlobalData, comments: "AI and Big Data are linked in the healthcare industry. Data derived from numerous pharmaceutical processes can only add value if it is properly analyzed and therefore produces actionable results. As a data-driven algorithm, AI requires high-quality data. The more data AI ingests, the more accurate and efficient it can become. Competence in these tech areas is vital for healthcare companies, as they provide improved patient care at a micro level and, more broadly, drives a higher level of insights and trends that benefit operational and clinical efficiency."
The growing number of successful AI use cases in the pharmaceutical industry is also contributing to the ever-growing trust in AI. Leading pharma companies forging partnerships in AI include AstraZeneca, GSK, Pfizer, Roche, Janssen, BMS, Merck, Novartis, Takeda, and Bayer.
Jakimaviciute continues: "AI has already shown it can deliver significant productivity improvements and drive efficiencies in drug development processes."
In January 2020, Exscientia and Sumitomo Dainippon announced the first compound, DSP-1181, designed by AI, to enter a Phase I clinical trial for obsessive compulsive disorder. The project required less than 12 months to complete the exploratory research phase. The second molecule produced by this partnership, DSP-0038, for Alzheimer's disease psychosis, entered clinical trials in May 2021. In April 2020, BenevolentAI identified Eli Lilly's baricitinib as a potential COVID-19 treatment in just three days. In April 2021, Exscientia and Evotec announced a Phase I trial for the first AI-designed immuno-oncology drug.
Jakimaviciute adds: "AI in drug discovery has started receiving more and more attention since 2020, with an increasing number of AI-focused vendors, high-value financing rounds, and pharma partnerships. These trends will continue to gather pace and we should witness more of these collaborations in the future.
"Less than one month into 2022 and we have already seen Sanofi sealing a deal with Exscientia to develop oncology and immunology treatments. Further, BenevolentAI and AstraZeneca have agreed on an expansion of their AI-powered drug discovery partnership to include systemic lupus erythematosus and heart failure. This indicates that the role of AI in the drug discovery and development process is only set to grow."